KamiBaby: All-in-One Smart Monitor For Babies
Real Time
8
Visitor Right Now
A feature-packed all-in-one baby monitor; KamiBaby has everything you'd expect from a baby monitor but goes even further, every feature is built with baby and parent in mind.
KamiBaby is more than a baby monitor. Using the latest AI and Edge computing technologies, parents will be able to see their baby's breathing amplified, making the parenting experience easier. 
Every parent with KamiBaby can keep track of their baby or toddler, receive relevant alerts, and have an extra pair of eyes to help make parenting a little bit easier within those precious first few years. 
KamiBaby is your all-in-one intelligent companion for your baby or toddler.
When your baby or toddler has a good night's sleep, you can too! 
Ever wonder if your baby is breathing while they are sleeping? Worry no more, thanks to KamiBaby, you can view your baby's breathing through proprietary image processing and AI techniques, to see a magnified visual of your baby's breathing. You can view it live from your Kami App anytime, anywhere!
The humidity and temperature of a room are very important when creating a comfortable sleeping environment. With KamiBaby, you can monitor your baby's room temperature and humidity instantly without needing extra accessories. All from your smartphones.  Plus, if your baby starts crying, you'll know straight away. 
Our team is made up of industry experts and innovators who are always creating more smart features with the latest edge-computing technologies.
Track your baby's movements through the night
Review your baby's sleep history easily on your Kami Home app and view the night summary in a short clip. How does it work? KamiBaby will automatically select the most important and relevant moments from the movement, abnormal sounds detection, and so on and combine them for you
Baby crying detection'; get an accurate alert sent to your phone
With a best in class Edge AI chip, KamiBaby only delivers relevant alerts, every time.
Built it temperature & humidity monitor; with real time detection

Thanks to advanced AI and Edge computing, you can check your baby's room temperature directly from the KamiBaby app, removing the need for additional devices.
with Daily Smart Album; you'll never miss a day

Automatically capture a high-quality picture, never miss a cute moment! KamiBaby creates a highlight reel of your baby's day which you can share with friends and family.
LIvestream video sharing; share those special moments with your friends & family
Share your KamiBaby's video-feed with friends and family. In case you need them to watch your baby while you are away or taking care of house chores.  Or perhaps, just sharing daily moments with the family far away.
360-Degree High Quality Speaker; play a lullaby, or record your voice to soothe them while you're away
You can talk to them or sing a song, keep your baby calm, record your voice and play it back anytime while you are away.
On/Off Night Brightness

KamiBaby's low energy LED night-light promotes natural sleep. You can turn the light on and off directly from your smartphone and even adjust the brightness level. Allowing your baby to sleep in perfect light temperature, or use its soft-light for a room's ambience
1080p & Excellent Night Vision
1080p Full HD night vision, its high-resolution recording enables you to capture every detail, with IR night vision ensuring that assuring you see even in the low light conditions, without the evil red glare shining in your baby's eyes.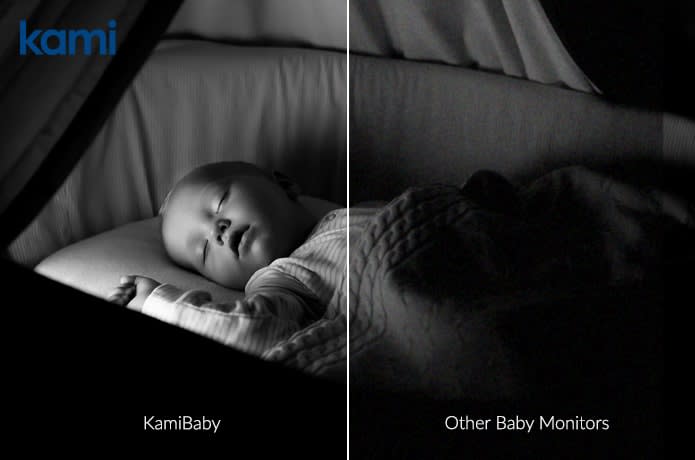 Works with Alexa & Google Home Assistants

Ask Alexa or Google to show your baby's room instead of viewing it from your phone or tablet
Two-Way Communication 
Talk to your baby or toddler when you are rushing back to their room, or use to communicate with a family member in your home while you are away directly on the Kami Home App.
Dual Storage & Data Privacy
Use up to a 128 GB MicroSD Card for 9 days continuous recording or use YI Cloud with 7-day free rolling use.  KamiBaby is fully GDPR compliant and follows the strictest data protection guidelines. We make sure every product has the highest data protection standards and a secure Wi-Fi connection.
Ready to use in minutes 
Manual rotation up to 300° horizontal and 100° vertical, FOV 160° and voice prompt installation, makes your KamiBaby is ready to use in minutes.
Plug the 5V, 5W USB adapter included in the box to an A/C source. It comes with a micro USB power cable and industrial cable cover to protect the cable from being grabbed, pulled, or tripped over.  
What's in the box?